NinjaTrader Pricing and What You Can't See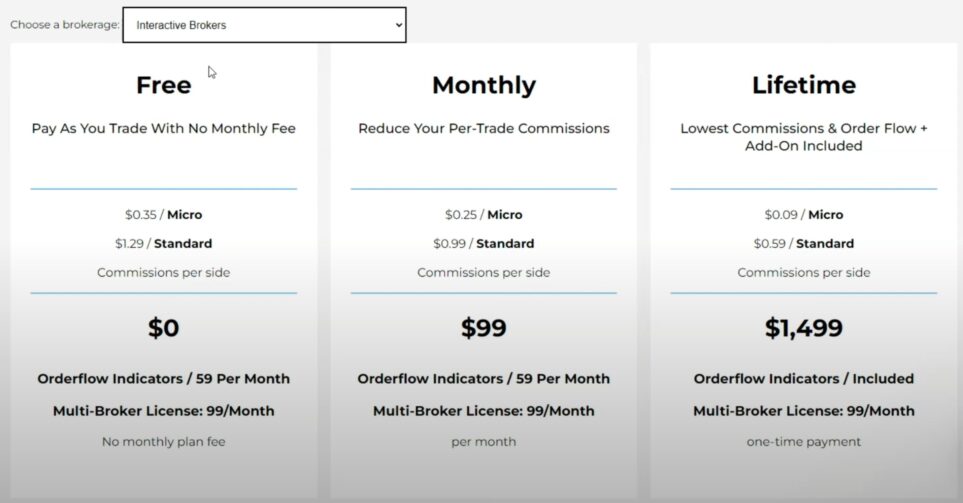 What is the cost of NinjaTrader software?
NinjaTrader's pricing structure underwent a significant transformation with the introduction of NinjaTrader 8.1 on March 4, 2023. Watch our
extremally popular release video
to get caught up with all the changes.
For anyone that owns a software license before that 8.1 release, you get grandfathered into the old pricing model. No need to be concerned as things have gotten more expensive (but also cheaper) depending on your approach.
What is the cost of NinjaTrader software?
NinjaTrader's Free To Use Option
One of their biggest changes is that NinjaTrader is now FREE to use with all of the features. Previously NinjaTrader would give you a free license but restrict your use of the platform and many of the great features which would just frustrate their users.
So how would NinjaTrader still make money? You will pay a higher round turn pricing per trade. So for example, you will pay 0.35/Micro vs 0.09/Micro if you owned a license. For some poeple, that's not a big deal, especially if your just getting started.
There are some extra's with this option and if you want to use volume indicators, you will pay $59 more a month. Also if you want to use a different brokerage than NinjaTrader you have to pay $99 a month.
NinjaTrader's Monthly Plan
$99 a month you can reduce your cost per round trade from $0.35/Micro to $0.25/Micro. That means per trade you would save $0.10 which I'll save you some math that is 990 trades for a micro trader in a month you would have to do to save the $99. That's a ton! So chances are you might be trading standard lots only if your doing this monthly option. That reduces your round cost per trade from $1.29 to $0.99. That saves you $0.30/trade but that's still 330 trades if you trade standard contracts!
NinjaTrader's Lifetime License Plan
The
$1499usd
option which they have typically run promotions on their lifetime licenses in December, is priced to give you the lowest round turn comission. It also includes the order flow indicators that normally someone would have paid $59 a month for with the monthly or free license. Most people we have talked to stay clear of order flow because of inconsistencies and are moving onto using
XABCD Patterns
- but this might be used by someone who combines volume with XABCD Patterns.
Summary of Pricing Options for NinjaTrader's Software
Below is the current version of NinjaTrader's pricing model in a chart. If we were to draw it up, it would look a little different. More on that further down...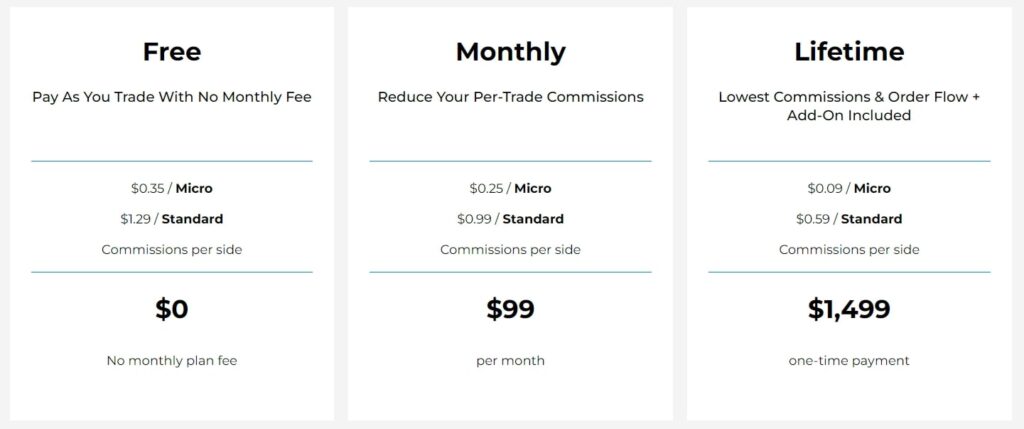 What If You Don't Use NinjaTrader as a Broker?
Taking everything into consideration your pricing model (the way we would put it) would look like this...Note the option there to select the broker you wish to use.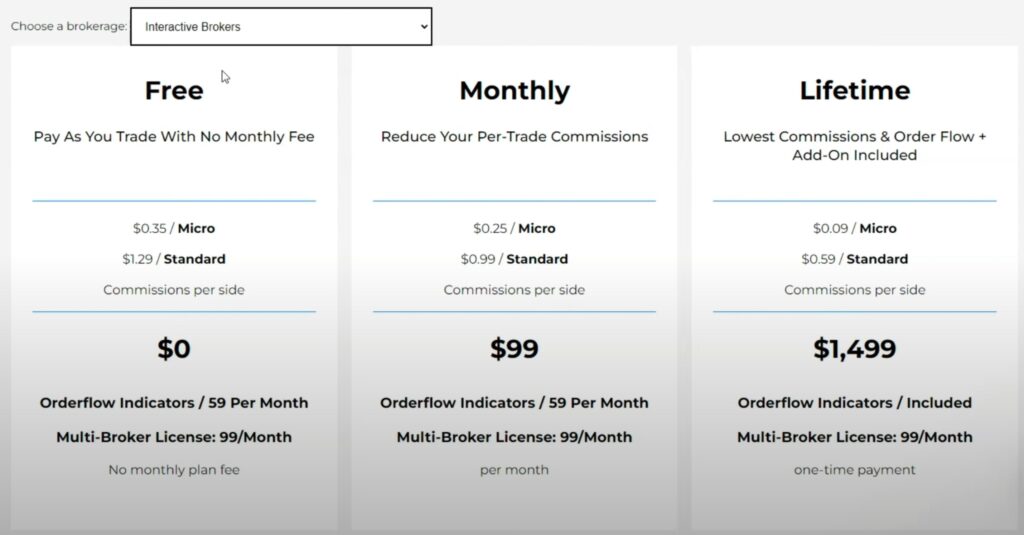 Are There Any Monthly Subscription Fees for NinjaTrader?
Maybe there will be additional fees, it all depends on your specific needs as a trader:
Volume Indicators: If you use volume indicators on the Free or Monthly option, there is a $59 fee.
Data Fees: There are also data fees to consider which for non-pro data are $4 per exchange. Be sure to check out our article on NinjaTrader Data Data Fees for all your options there.
Multi-License Brokers: Finally if you use a different broker than NinjaTrader, you will be paying $99 a month for a multi-broker license regardless which license you have from NinjaTrader.
Is There a Free Version of NinjaTrader Available?
Yes
There is a free version of NinjaTrader but you
must open up a brokerage account with them
in order to use the free license. If you do not qualify for a brokerage license with them then you can't use NinjaTrader for free. In most cases I don't suspect this is a problem.
Keep in mind that even though you can use the NinjaTrader software package for free, you could be required to pay other fees. Eg. If you want to use ua different broker than NinjaTrader your looking at a $99/month fee. Or if you plan to use NinjaTrader to get just live data to demo trade, you are going to see a $4 per exchange fee and if you don't place a trade you will see an inactivity fee of $25 if no trade is placed in the month. Double check with NinjaTrader on those specific details to see if any have changed.
What Are the Differences Between NinjaTrader's Free Version and the Paid Version?
When it comes to features of the platform there are no difference with the basic operations. The only difference would be if you use volume indicators then you don't have to pay for those on the live time license where you would on the free license. Interesting enough volume indicators on Tradovate do not cost anything more because those volume indicators are not as involved.
Are There Any Additional Fees or Commissions Associated with Using NinjaTrader?
There are always additional fees. Eg, ACH withdrawls are free but if you want a check its $7 at the time of this writing or wire transfers are $30. So it really depends on how your going to be using the account so its best to check out their
account fee page
to make sure you have all the details covered.