Position Sizing Indicator for NinjaTrader!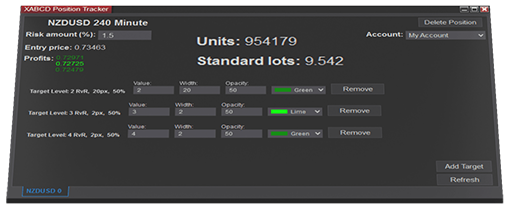 Calculate A Percentage of Risk Into a Position Size Automatically.
The position sizing tool is a highly effective means of managing risk for traders and investors. By utilizing a percentage-based approach, this tool can accurately calculate the optimal position size based on the desired level of risk.
Not only does this promote consistency in position sizing, but it also allows for scalability while staying within one's predetermined risk limitations.
Ultimately, incorporating a position sizing tool into your risk management strategy can help improve the overall effectiveness and success of your trading endeavors.
So many differenet types of traders would find this useful. We get a lot of traders who are using it with evaluation or funded accounts. Also a lot of people that might manage money or want to keep a strict consistency with their own trading.
The position tool works in the following markets: Futures, Forex, Stocks, Crypto, Bonds.
1) First you will decide on your entry and stop, and use the position tool to mark that in.
2) The program will use your entry and stops to determine how much to risk in order to maintain your % of risk specified.
It will figure out the position size
based off a risk percentage.
It automatically reads in your NinjaTrader account balance (live or demo) and can calculate even if you use an external account.
Use it like a risk vs reward drawing tool, watch it auto calculate.
Click where you want the entry point, then select the stop and watch the target automatically draw based off your risk vs reward settings.
If you want the position size to be calculated, right click and select "Sync with Tracker".
In the tracker window, your can change the percentage of risk and you will see your calculation size appear.
Read in the information and use it in your live, demo or external account.
You can input your account balance of an external account into the NT8 software for the calculations or use a built in NinjaTrader account.
Live Account, Demo Account or Paper Trading - Works With It All. You don't need to have a NinjaTrader account to use this tool. You can use it with a demo account or if your just paper trading. We'll show you how to set this up...

How We Do The Calculation? We look at your account balance and the value of every tick/pip an compare that to the entry position you map out with your stop.

Does The Base Currency Of The Account Matter? We support any currency as the account and isn't just limited to US Dollars.
Support and Upgrades Included!
Get your life-time license for our position sizing tool in NinjaTrader 8 with one simple payment.
Ready to Secure Your Copy?
---
$149
Promotional Price: $99
I use it all the time as part of my day to day trading.

Wendy
I have nothing but greatest appreciation and admiration for your great software products.

Joe