NinjaTrader 8 Crashing? Here's How to Prevent It From Happening.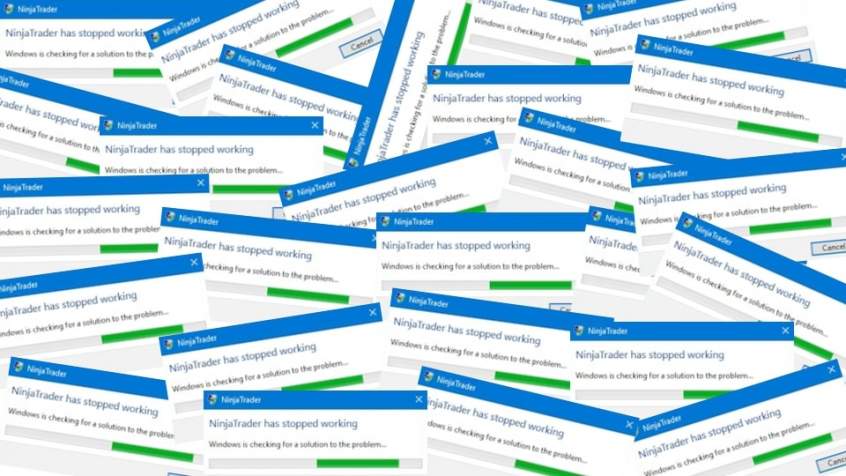 NinjaTrader 8 crashing doesn't happen much anymore now that the beta is over. Actually, NinjaTrader 8 is impressively stable out of the box and the stability keeps improving with each release (as you can see from the release notes). However you might have made changes that hurt the over all performance of the trading platform or might not be keeping up to date with the current platform release. Keeping the program updated will solve a lot of stability issues.
If you are unsure what to do with all this info below, and it seems way too technical,
contact us
on our live chat and we would be happy to help guide you through it.
If NinjaTrader 8 is Crashing, What Should You Do?
Best way to get help with your NinjaTrader 8 Crashing
Gather Log Files

These files are stored in your My Documents/NinjaTrader 8/logs folder.

Gather Trace Files

You can find these in a different directory called My Documents/NinjaTrader 8/trace folder.

Write a very detailed summary of the event that happened.
Stick to the facts and not what you think might have happened. The more detailed you are, the higher chance your probably will be fixed.
Send Logs and Trace Files to Support

You can create a ticket by emailing NinjaTrader 8 support at [email protected]
A Simple Trick To Narrow Down The Issue
A quick and easy way to narrow down any issues and find out where the problem is located is by starting with a fresh workspace.
You will need to create a new workspace and then close the one that was causing the issue (as it is probably going to be running in the background).
Can you re-create the issue on the new workspace?
Add the next change/tool/indicator and see if you can recreate the problem now?
Keep adding a change/too/indicator one by one until you've hit the problem. If you still have not hit the problem try to use the workspace until you have hit the issue again and take note of what you were doing right before the problem happened. If you do hit a problem, you know where the problem is and perhaps you can narrow it down from there.
If you have not figured it out yet, go ahead and file a support ticket with Ninjatrader, we have some great tips on how to get the best response from them below.
Quite often NinjaTrader crashing can be a configuration issue. We've seen some really weird usage out there where people will try and load up 10,000 bars of historical data and cause a performance issue where their system runs out of memory (maybe they have low disk space too) and slows things down. In a case like this it isn't the platform that's a problem but instead it's a configuration issue causing a slow down which is causing the stability issues. Creating a new workspace is a great way to eliminate some of the problems right away which can be quicker than trying to file a support ticket.
Does NinjaTrader 8 Start in Safe Mode?
Try starting NinjaTrader 8 in "safe mode".
You can enter safe mode by holding the control key, and double clicking the NinjaTrader icon to start the program.
The reason why this could help you is because the problem might be because of a 3rd party provider that has a plugin which is not functioning correctly. This safe mode start will answer the question if it has to do with the 3rd party provider or not.
Will Filing A Ticket With NinjaTrader 8 Get My Crash Resolved?
Yes. It really can make a big difference. But think of it this way - even if you were one of the first to ever hit an issue that caused an unexpected behavior - there is only one way to get that fixed. It's to let them know about it. Always file a support ticket with NinjaTrader support and don't expect that someone else will do it and it will eventually be resolved.
Check the NinjaTrader 8 Support Forum
You can check the
NinjaTrader 8 Support Forum
to see if there has been any other reports of people having a similar problem. Make sure that they are using the same release you are as there have been many crashes happening in beta releases that are no longer happening now.
Be sure to be detailed in your description to get the most helpful responses. Don't guess what you think might be happening and just stick to the facts. Be open minded. More often than not people believe they know what is happening and they try and shape the conversation to their belief. However, a lot of times this can actually slow down the process.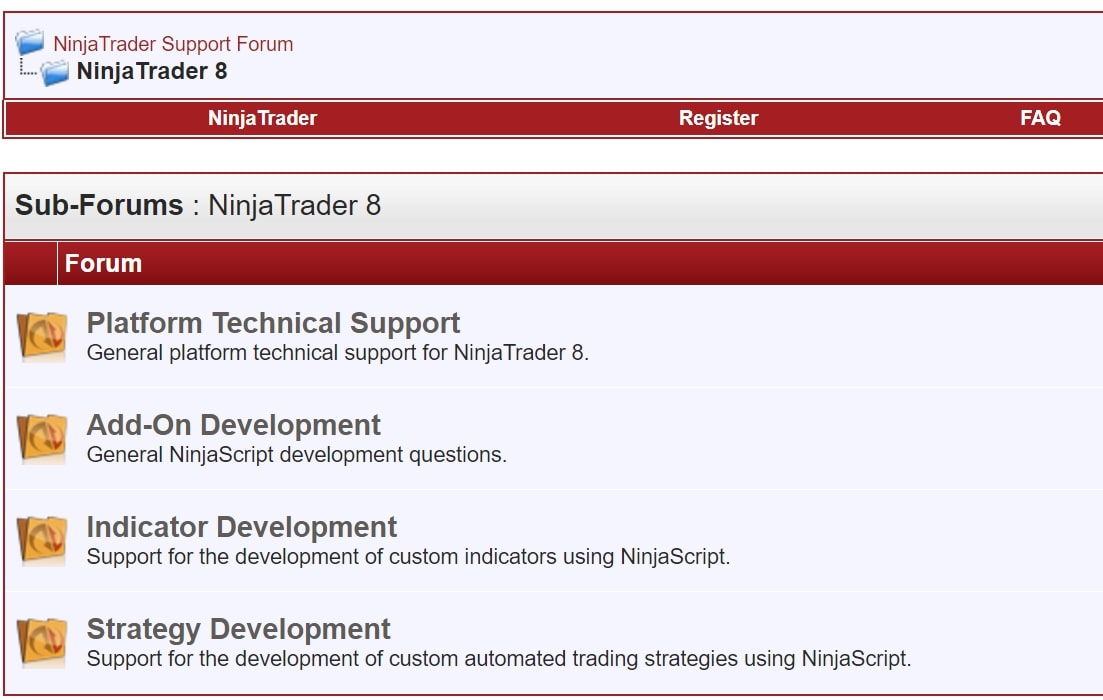 Increasing Performance and Stability to Prevent NinjaTrader 8 Crashing
In the video below we go into 3 settings that you can adjust to make your platform run even more like butter. If you're getting the screen freezing and you click a few more times and the program crashes, this might just be your answer in the first 2 tips and tricks.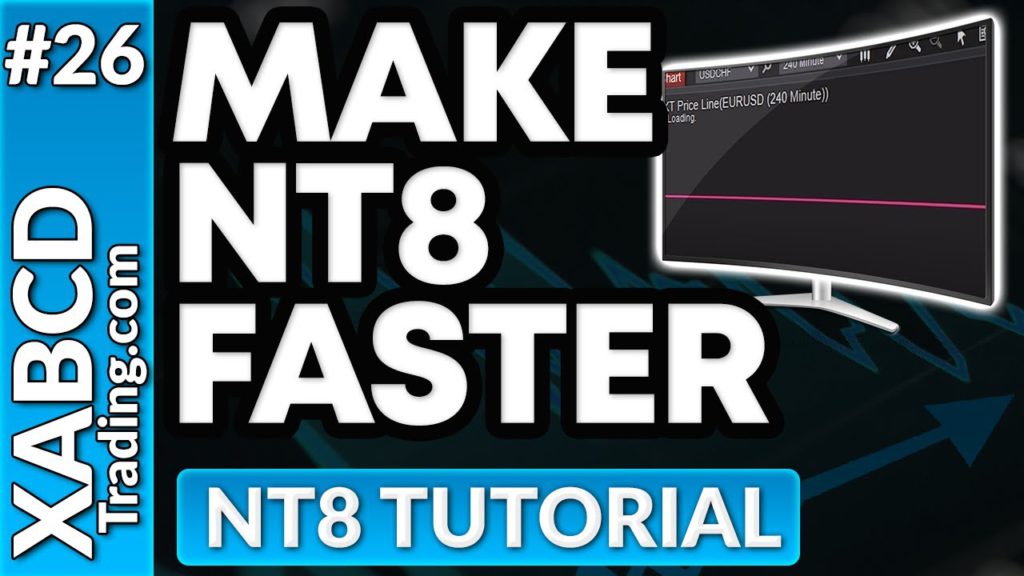 What Else Can You Do To Fix NinjaTrader 8 Crashing?
#1 - Make Sure You're Updated

That's right, most of the people we talk to are running old versions of NinjaTrader 8. Each version so far has had over 50 fixes and if you're running a couple versions behind then you could have over 300 fixes that were not applied.

#2 - 3rd Party Tools

Preventing crashing couldn't be easier with good and updated code. Programming errors can cause crashes so it's best to check with the vendor to see if it's a known issue. Sometimes when NinjaTrader releases a new build they have changed things which require the vendor to release an update, so check with the vendor to see if any other users have the same issue.

#3 - Check Logs and Trace Files

Check log and trace files which can be found in the "Documents/NinjaTrader 8/log" and "Documents/NinjaTrader 8/trace" folders. These will often provide clues on what is causing the crashing from happening.
Troubleshooting Crashing in NinjaTrader 8
Questions to ask yourself when trying to troubleshoot crashing in NinjaTrader 8 (or any other program). If you need to file a support ticket, this will be extremely helpful to get yourself good support from NinjaTrader.
Can you reproduce this problem?
If you can reproduce the problem, write down the exact steps that you take to cause the problem.
Does the problem happen when your away from the desk or while you're working in the program.