Is There A NinjaTrader 8 for Mac? (2023)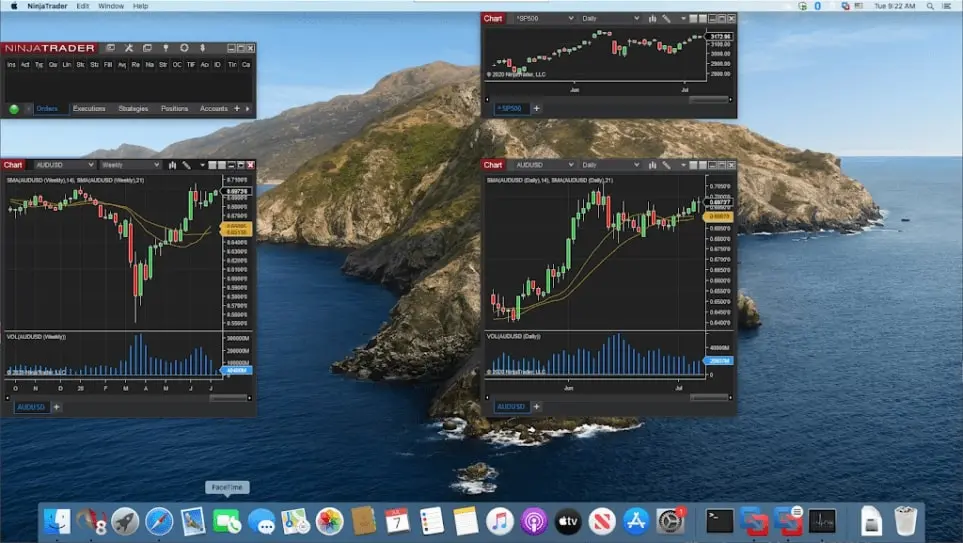 Will NinjaTrader 8.1 Work on My Mac?
YES!
Yes you can run NinjaTrader 8 on a mac (regardless what mac you own, and yes works on the newer m1 and m2 chips). It requires you to run some
virtualization software
as a layer between the NinjaTrader program and the Mac OS and its super easy to do it. There is no version that runs directly on the mac and I highly doubt there will be any, sadly trading on a mac isn't as simple. This process and outline in this article will be very simple and it won't take you long to get this all setup.
What Does it Cost to Run NinjaTrader 8 on a Mac?
Cost
You can set this up for 30 days for free. After that, your lifetime license you'll need from vmware/microsoft will be around $30. I highly recommend do set it all up for free for the 30 days. Do the testing as you'll see how beautiful and integrated this setup is as you can tell from the screenshot at the top.
M1/M2 Chip?
Big Sur, the
Apple M1/M2 Chip can now run NinjaTrader 8
! You will need
VMWare Fusion 13
(can use the 30 day trial to make sure you get it all up and running) and the Windows 11 ARM version which is available through the
Windows Insider Preview Downloads
. Once you have those two things you can follow the instructions in the video below to get up and running. Have any questions? Visit the
youtube video page
to ask and get support there.
Question?
We respond to all questions super quickly in the comments of our
youtube video
. Chances are you'll also find an answer there. Typically all questions are answered the same day (and many answered a lot sooner!)
The Video Walkthrough and Installation Process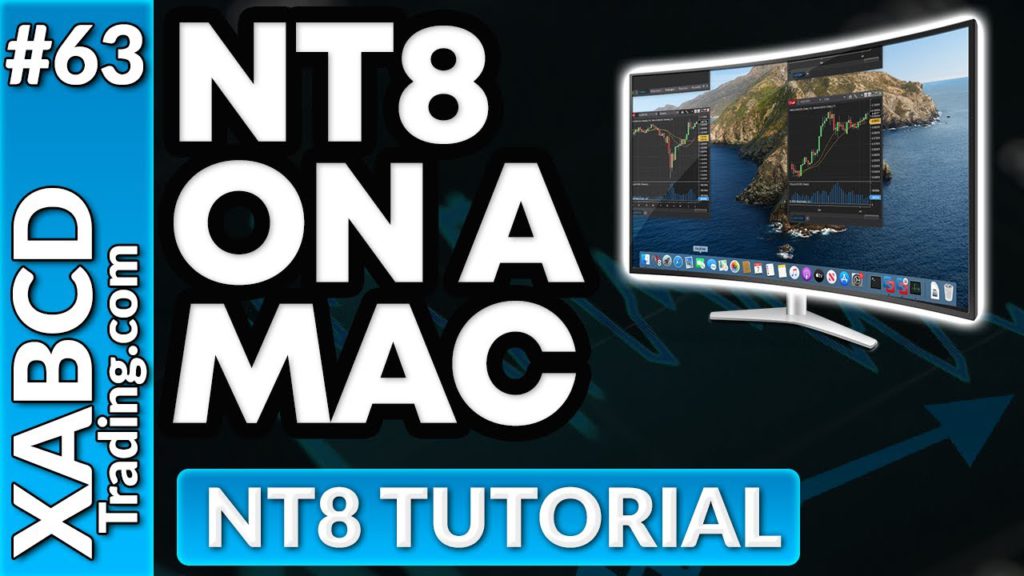 To create a mac version they would probably need to double their developers on staff, higher more QA and project managers - it's a huge expense so I don't think there is quite the demand for it at this point.... However that doesn't mean that running NinjaTrader 8 on a Mac isn't possible. It is possible to run NinjaTrader 8 for mac's.
Yes - It can work! Yes, you can get NinjaTrader 8 to run on your mac BUT you will need to go through a process that will take some time to set it up.
High level steps to get NinjaTrader 8 Working on Mac

1) Download the NinjaTrader 8 Install file and store it on your mac somewhere (You will need this later)

2) Download the trial version of VMWare Fusion or Parallels (links below) and install the program

3) Install Windows into VMWare Fusion or Parallels

4) Install NinjaTrader into VMWare Fusion (preferred) or Parallels

If you have worked with virtual machines before or are pretty savvy with computers this process could take you between 1-3 hours.
No - You can't run it in native form. There is no NinjaTrader 8 install file which allows you to install it directly into your mac operating system.

There is no version that was designed for a mac as NinjaTrader runs on the .net framework which basically means it was coded for a PC running Microsoft Windows.

If you want to get NinjaTrader 8 to work on your mac, you will need to follow the steps outlined below.

If you are a Mac user, and you want NinjaTrader 8 to run on your mac it is worth the time to set it up.
As popular as Mac's have become in recent years, there is a long list of programs that developers have no plans on creating Mac versions. So to keep Mac users happy, companies like VMware and Parallels have created programs that will do the translating so that you can still run them on your Mac.
I would also like to mention that we have personally run NinjaTrader 8 inside of a VMWare virtual machine with
our XABCD Pattern tools
, market analyzer templates and alerts and have found no issues.
Just pick one of these, you won't need both but be aware of their differences too which we have outlined below if you want your NinjaTrader 8 for Mac to work.
Specific Setup Instructions for NinjaTrader on A Mac
Cost: 81.95USD
URL: vmware.com
Trial: Yes
What VMware Fusion allows you to do is run a Windows operating system inside a "virtual machine". Think of this as running a windows computer inside of your Mac. It's a great option for other programs (not just NinjaTrader) that you want to run inside of your Mac computer.
VMware Fusion 13 is compatible with M1 / Big Sur. VMware Fusion 11 can be used on older mac operating systems.
Cost: 69.99USD
URL: parallels.com
Trial: Yes
Parallels runs windows too just like VMware. The difference here that we've been able to spot is that you can run NinjaTrader 8 within it's own window, where with VMware the window would be the whole OS. It should be noted, we have also experianced lots of crashing when using NinjaTrader and Parallels under any sort of load. So we recommend using VMware Fusion which has been flawless with a little overhead and better integration.
What Program Do I Need to Run NinjaTrader 8 on a Mac?
Configuring Parallels?
It's recommended to setup your Parallels with the following settings:
Run Parallels, Select your VM (Virtual Machine)
Look for the Configure button
Under Options, select "Sharing" Uncheck "Share Mac" under "Share Mac User Folders with Windows"
Press OK and start the virtual machine
Configuring NinjaTrader for VMWare Fusion:
Change the following settings for VMWare to run your VM's correctly.
Select your virtual machine
Press the Settings button on the bottom
Under System Settings select Sharing
Uncheck Documents from the Mirrored Folders list
Close the Settings window and start the virtual machine
You should now be able to configure and setup your NinjaTrader application on these virtual machines.
There is a known issue with Parallels running NinjaTrader.
Problem:
NinjaTrader will not start when launching the application.
Resolution:
Please delete an update for Windows (KB2836988) which was installed in your Windows virtual machine, Source:
http://kb.parallels.com/en/118562
Both VMWare and Parallels have a 30 day trial but if we had to pick one, the VMware fusion program might be the better choice as there are a few advantages. One of those advantages would be how VMware handles graphics a ton better with less overhead than Parallels. Because NinjaTrader uses directX graphic components to make the charts look really slick, it's recommended by us that you try VMWare first before trying to get it to work on Parallels.
Give it a shot and come back and post some feedback below. If you need a hand at all be sure to come on the
live chat
and we can help you out.
Will the XABCD News Tool Work in NT8 Running on A Mac?
Yes! Both the
free version
and the
paid version
will work within NT8 that runs on a virtualization platform like VMWare or Parallels. Therefor there is no need for any additional setup with these tools. It will also work great with our widely popular
XABCD Pattern Suite.