Automatic Pattern Indicators
Identifies patterns using a multi-dimensional approach of using price, time and frequency waves.
Interactive Drawing Tools
Draw out the pattern you see and the pattern will turn from grey to a color when your ratios are valid.
Scan Any Market
Scan for stocks, futures or forex using our market analyzer scanner.
Templates & Workspaces
All of our templates and workspaces are included and can be used in any market!
Automatic Pattern Indicators
---
Works in all markets and is a framework where you can modify existing ratios, change pattern names and make the tool exactly match to your needs to improve your pattern trading.
---
XABCD™ Pattern Indicator
---
Draw all styles of patterns. 4 Point Patterns, 5 Point, and 6 Point Patterns. All styles of patterns. For an example of what is possible, please visit our patterns page.
---
---
Past and Current Patterns
---
Add in your ratios, name your pattern and the tools will start working for you. It's an advanced tool that will do what you tell it to do.
---
---
Custom Colored Patterns
---
Each pattern will be represented by a different color. Bearish and Bullish patterns can have different colors assigned to them too. All pattern colors can be customized to provide the most flexibility.
---
XABCD™ Pattern Filters By Size
---
This is an extremely useful feature that allows you to set the minimum bar count that must be included in each pattern. If you're wanting to see only patterns that have a certain number of bars in them, this indicator will let you do that. This is very useful if you want to keep all your trades over 30 bars for example.
---
---
XABCD™ Flexible Gap Percentages
---
Allow for the ratios to be just a little more flexible. Eg: If one of your ratios required a 61.8, the flex ratios would allow a 61.9 to still be valid.
---
---
Advanced: Control Pattern Points
---
Our XABCD™ Pattern Indicators for NinjaTrader 8 allow you to control how a high and low is identified to map in the pattern points.
---
All Markets, Time Frames and Charting Styles
---
---
Example of Range Bars. Yes, any market (stocks, forex, futures etc), on any time frame, on any chart type. If you can pull up a chart in NinjaTrader 8, we can find the patterns.
---
XABCD Sonar Indicator
---
Included with the XABCD Pattern Suite – The XABCD Sonar Indicator is the squiggly line that you see on the charts that gets drawn into the future showing you frequency waves.
---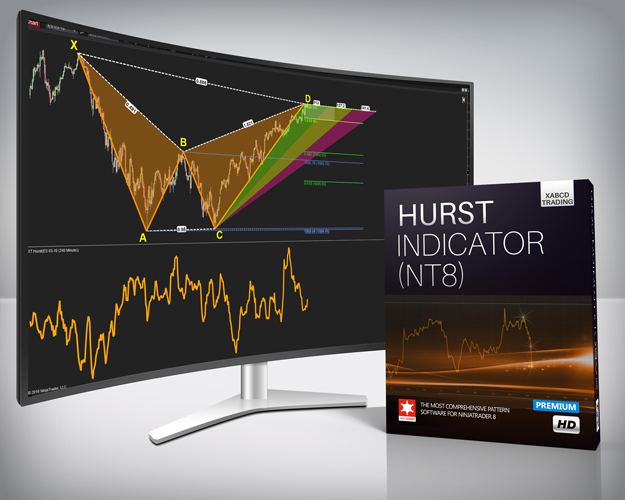 ---
XABCD Hurst Indicator
---
XABCD Hurst Indicator is also included with the XABCD Pattern Suite – This indicator runs below your chart and helps you calculate the data to using the Hurst Exponent to calculate if the data on the chart has more anti-persistence or persistence into the chart.
Responsive Drawing Tools
---
Our drawing tools allow you to draw out your patterns without drawing out each individual price and time Fibonacci measurement. When the ratios become valid, the pattern will turn from grey to the color you select.
---
4 Point Pattern Tools
---
Drop the "X" and what do you get? ABCD. These 4 point patterns will help you forecast where price is going.
---
---
5 Point Pattern Tools
---
Draw any 5 points XABCD™ patterns, name them and watch them self-validate as their ratios become valid and the pattern turns an identifiable color.
---
---
6 Point Pattern Tools
---
Draw any 6 points patterns, name them and watch them self-validate as their ratios become valid and the pattern turns an identifiable color.
---
Auto Validation of Ratios
---
The pattern will change colors when the ratios are valid. As you move your mouse and start drawing in your patterns, the patterns magically appear. Once all the ratios fit the patterns they will alert you by changing colors. Colors can be customized.
---
---
Total Customization
---
This is your control panel of all the patterns and ratios that you can specify, modify or even create your own. These ratios get applied to all our tools including the market analyzer so everything stays consistent.
---
Scanning Entire Markets
---
You will only be limited here by how many symbols you can scan by your data provider. In most cases you should be able to scan entire markets.
---
Scans All Markets / Time Frames
---
Our market analyzer pattern scanner will work on all markets. Scan entire lists of symbols with little effort.
---
---
---
Add Custom Fields
---
Add any other indicators to the scanner and make it totally customized to your preferences. Any value, of any NinjaTrader built-in indicator will work out of the box!
---
Cells Highlight Based on Conditions
---
Do you only want to see patterns made up of 30 bars or more? Are there only certain patterns you want to scan? Not a problem, filter only what you want to see.
---
Built in Alerts
---
Setup email alerts with chart images, or send yourself a social message on twitter, facebook or stocktwits. You can even use classical audio alerts.
---
---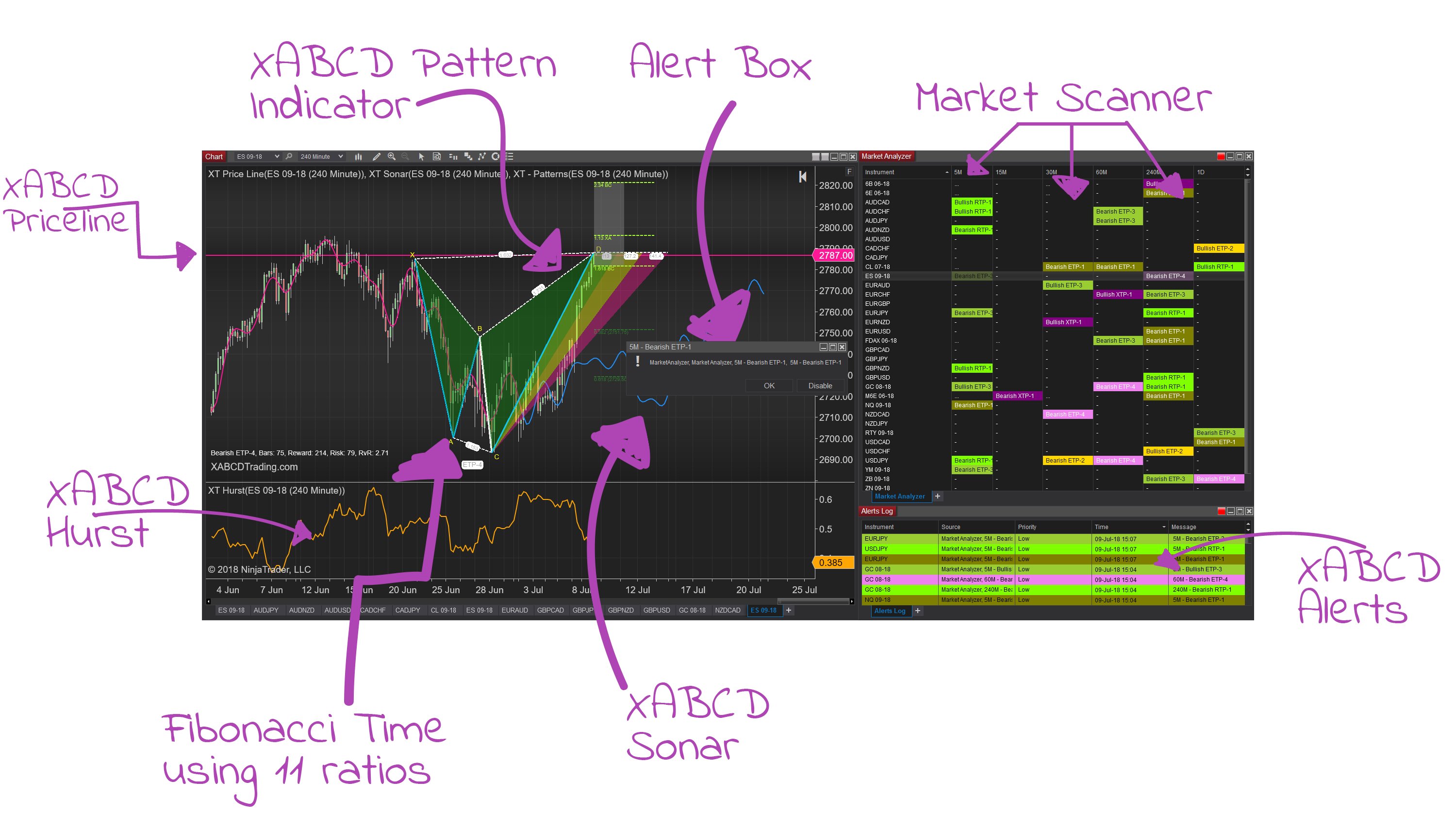 * These fields are required.
Over 177,135 Lines of Code
I have for trading I spend it on the backtesting (I've got already 5 pairs backtested from 2005 1H + 4H 😉 using your incredible tool it's just so smooth !
By the way I've completely recouped the investment in the XABCD tool which is good !
After working with the Tools for another few days, i really start to like XABCD patterns
The XABCD pattern indicator, if used correctly, is the only indicator I know which has really great predictive power!
I like the indicator as I think it can help me to save a lot of time in founding trading opportunity.
I know this can sound a bit strange but the installer was a breeze. Was very simple to setup...great software. Giving in 4 stars for now but will upgrade to 5 when that 1 minor feature gets added.
Keep up the great work over there. Very impressed with the overall operation at XABCD.
As part of the community for a while now, i must say im impressed.
ALL the members are positive and helpfull.
I traded before i came here, but slowly bled my account.
Originally i just wanted the softwaer, and the mentoring not so much.
BUT chris has stepped up and slapped some sense into me,
although i came very far on my own, i wasnt nearly good enough and i was getting a bit lost.
This all changed when i started listening to Chris from Xabcd,
Trust me you dont have to be far off to feel completely lost,
But Chris does a very good job making you realize things you overlook, and re-directing your energy to where it counts.
still have 4 months to go, but untill now it has been a great value for money!
I have been using the indicators though and they are very favorable a better percentage of the time.
It's very nice, clean, and efficient.
I think I am just about up to speed. Software is genius, and webinars are outstanding.
We invested in this application a few months ago and we love it so far.
Very impressed. I'm so glad I came across XABCD Trading.
I have one word for your software, MAGIC!
I'm glad i got your tools, it have saved me a lot of time!
I use XABCD every day to find pattern, it is a great software.
Y'all have really done great work with the software.
Thank you for the XABCD pattern indicator and all the educational material, recorded webinars, and tutorials you have on your website. I've seen a few other products out there, but nothing quite like yours. I do find them to be very helpful 🙂
I'm amazed at how the indicators can do the work in locating a possible pattern to trade.
Downloaded the indicators for NT8 and installed them. I am having a lot of fun playing with them. Looking like they just might work out for me!!!!
What goes on under the hood of this tool must be so complex. Some how you made it so easy for people to use. The best thing about this is the flexibility to build to do whatever you want with it.
Loving the whole xabcd setup
The indicators I purchased from you are doing well on my NinjaTrader 8 platform. The coding you had done for these indicators seems to be of exceptionally high quality, After rigorous testing I've encountered no issue's so far.....this very rarely happens.
Nice software. It installed easily and runs without a hitch.
These unpaid testimonials are not representative of all user experiences, individual results will vary. These testimonials are not indicative of future performance or success.