XABCD Pattern Suite™ for NinjaTrader 8
Finds the patterns.
Does all the discovery for you.
Saves you time.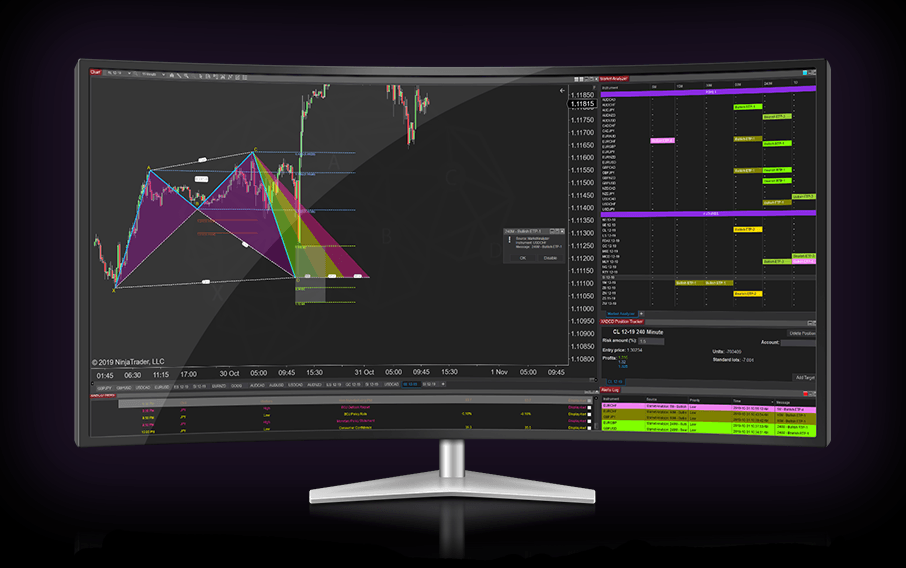 ---
I have one word for your software, MAGIC!

Helen
I'm glad i got your tools, it have saved me a lot of time!

Toan
Y'all have really done great work with the software.

Pete
Loving the whole xabcd setup!

Nathan
---
---
Automatically draws XABCD patterns on your charts.
---
---
Scan's any markets or instruments and alerts you to them in real-time.
---
---
Drawing tools to manually draw on patterns with auto-validation.
---
---
---
Templates & workspaces provided to get up and running fast.
---
With advanced software comes a personalized experience.
---
Our XABCD Pattern Software elevates what pattern trading is all about. We provide you the ability to customize so much of our software from the look and feel, to different ways to analyze and filter the patterns.
Yes we have pre-built in XABCD patterns you can use. If you want to add in your own, you can do that too. Zero coding required, all user friendly.
---
Control the entire look and feel. Not just the pattern colors but how targets look, fonts used, line thicknesses, opacity levels, the list goes on.
---
You choose the XABCD patterns. You pick the market, and you select the time-frame. There are so many ways to customize the scanner.
---
Don't want to see small patterns? No problem. Want to only see patterns with obvious reversal points? We can do that. Lots of ways to filter out patterns you don't want to see.
---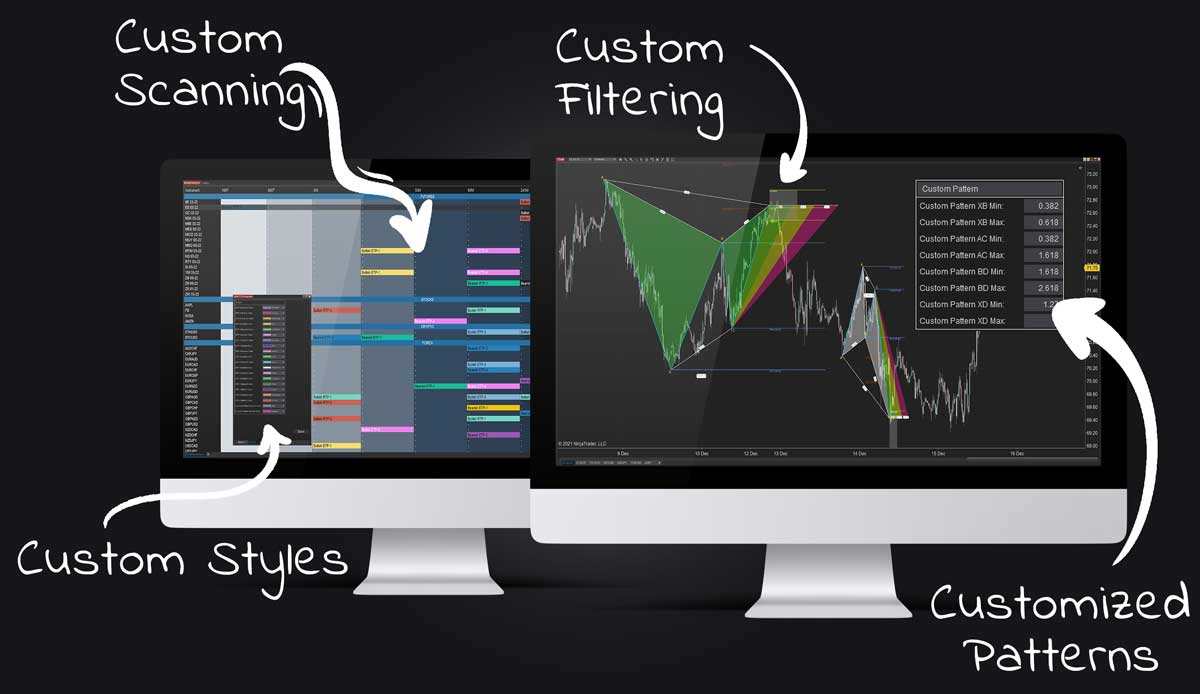 Included in the XABCD Pattern Suite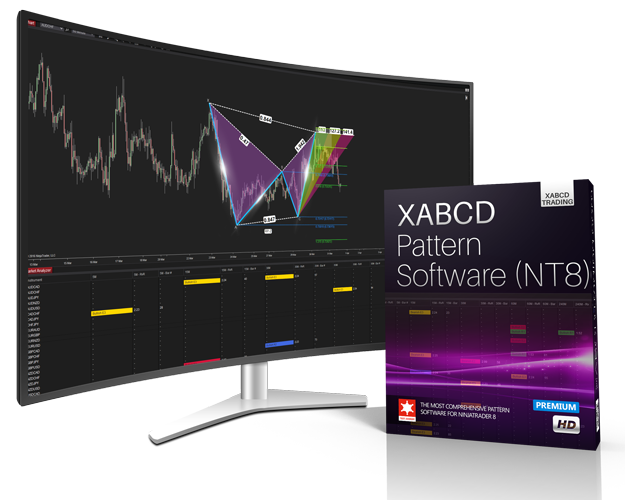 The XABCD Patterns indicator allows for you to automatically drawn in and print patterns onto your chart. Not only will it automatically draw them in, but you can scan entire markets on any time frame you want.
Scan any market - Futures, Forex, Stocks, Crypto.
Builtin XABCD Patterns or Custom Patterns so the software can grow with you.
Get up and running quickly! Templates and workspaces included.
JumpStart Educational Course included for lifetime license holders
Filters patterns to show you only bigger and larger patterns
Strong Performance to allow you to scan a lot of symbols all at once.
---
---
I have for trading I spend it on the backtesting (I've got already 5 pairs backtested from 2005 1H + 4H using your incredible tool it's just so smooth ! By the way I've completely recouped the investment in the XABCD tool which is good !

Artum
---
What goes on under the hood of this tool must be so complex. Some how you made it so easy for people to use. The best thing about this is the flexibility to build to do whatever you want with it.

Bryce
---
Thank you for the XABCD pattern indicator and all the educational material, recorded webinars, and tutorials you have on your website. I've seen a few other products out there, but nothing quite like yours. I do find them to be very helpful

Tapas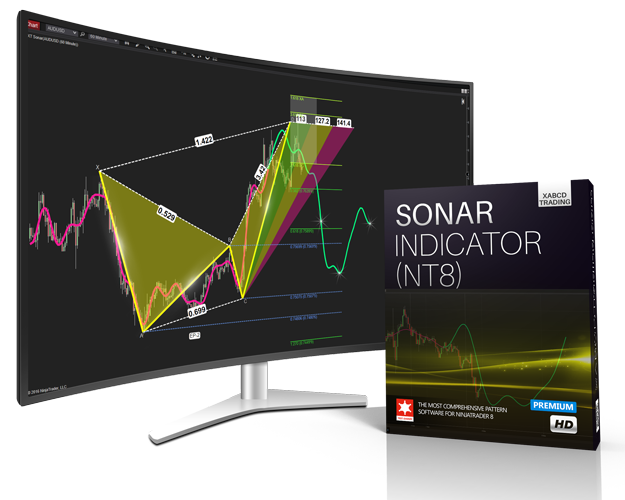 This is the squiggly line that gets projected into the future. Sonar is a way for us to take a consistent approach on how we weight trades. Be sure to check out our videos in the
education center
on using XABCD Sonar as well as our 30 examples that we go over to get you mastering this indicator.
---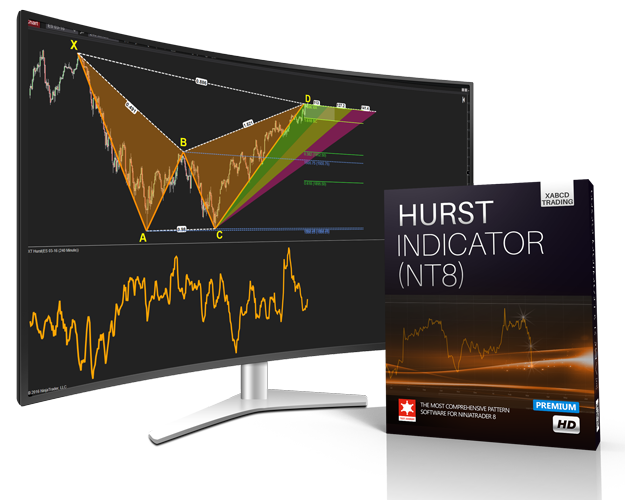 The
XABCD Hurst indicator
is used to see if there is anti-persistence for looking for trend reversals or if there is persistence if you are wanting to trade with the trend. The indicator is very easy to read and not very subjective. Be sure to check out our XABCD Hurst crash course and you'll master the Hurst indicator.
Automatic Real Time Pattern Detection
Our pattern software works in
real time
detecting the patterns. Each tick gets analyzed to see if the ratios all line up to form the consistent set of emotions that creates each xabcd pattern.
---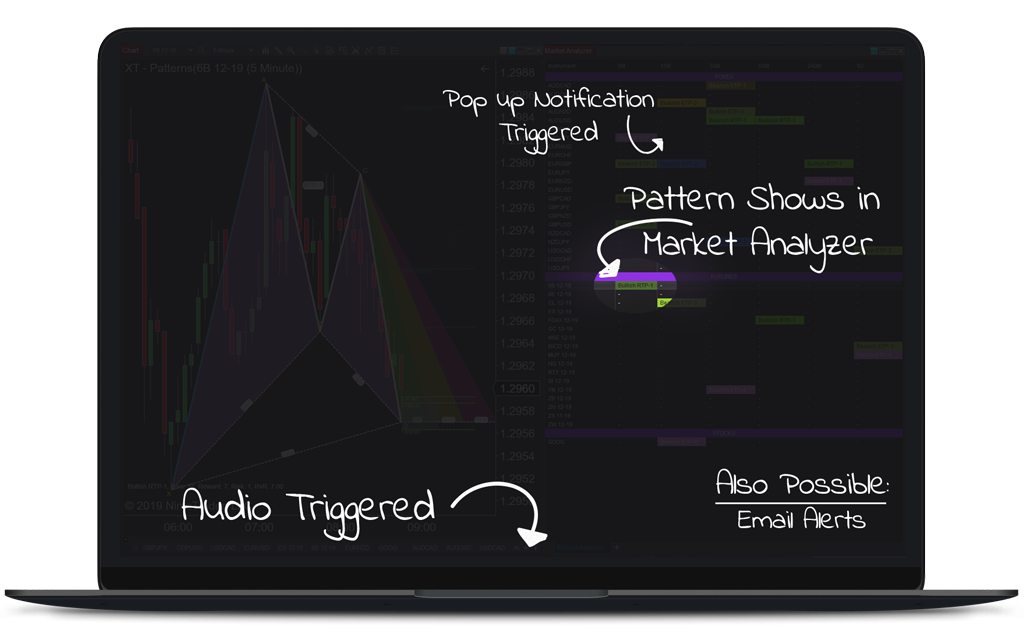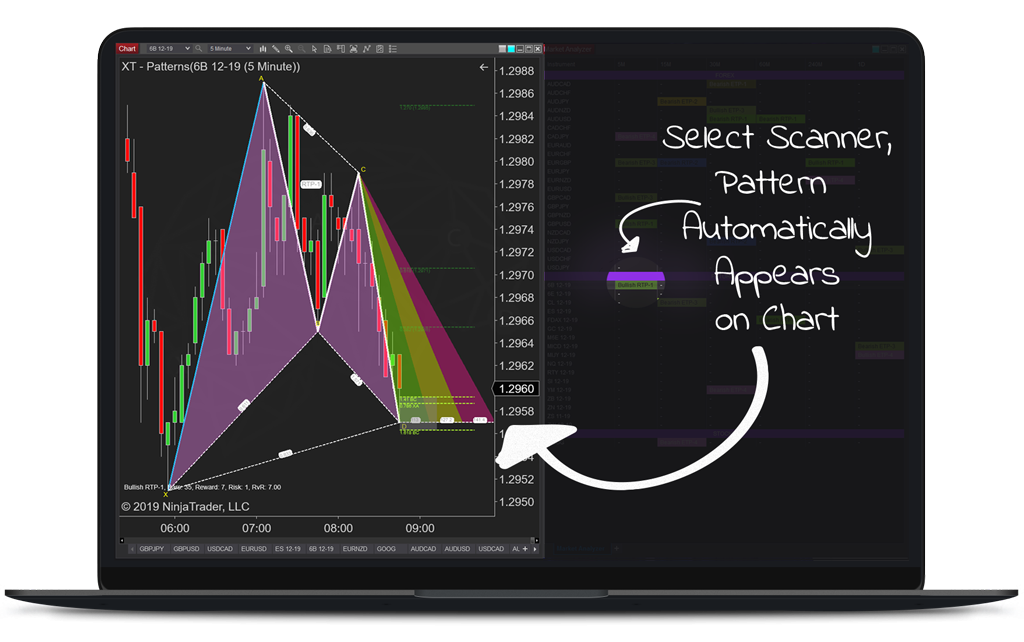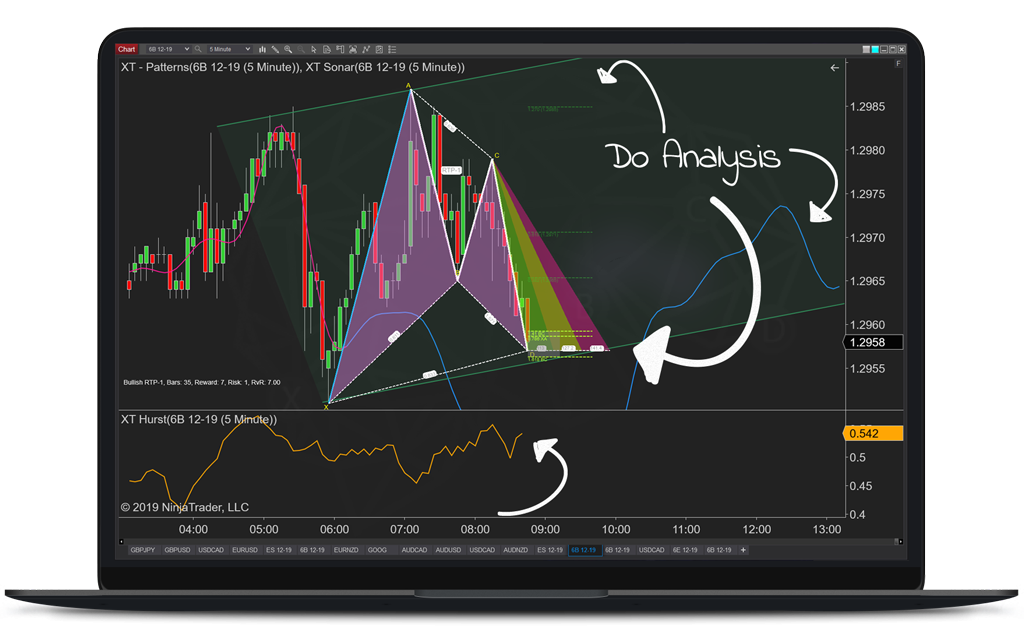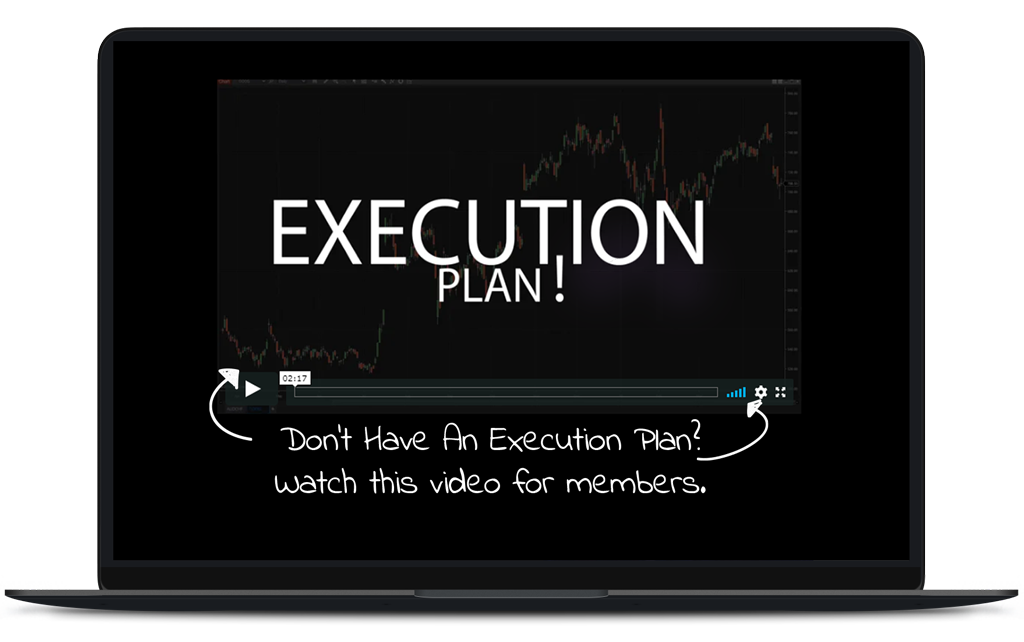 Scans Charts Automatically
Fully Automated Pattern Finding
When you run our indicator on your charts it will instantly look for patterns. Once these patterns our found, the software draws them in.
Because this happens so quickly, you won't even see the "drawing" process. Instead you will just see the indicator flash the pattern onto the chart the instant it matches all the rules.
This is highly effective for saving time and taking the hassle out of drawing patterns yourself and figuring out what points would be valid.
---
Identify Patterns In Seconds
Self-Validating Drawing Tools
---
Findng patterns automatically is one of the main reasons why many traders use our software. However, there might be times where you want to draw the pattern out yourself on the chart.
This could be because you want to project a pattern that could complete in the future or you want to see why a pattern might not be valid. Regardless of the many reasons, drawing out 11 fib patterns can take a ton of time and validating them.
Manual Drawing Tool: 0:30 | Automated Drawing Tool: 3:12 | Market Analyzer / Scanning Tool: 7:01
---
Using our drawing tool requires you to just click on the pattern points. All 11 Fibonacci ratios are then measured for you.
---
When all the ratios are valid, the pattern you drew will turn from a dull grey into a vibrate color. This way you instantly know when you see a colored pattern that all the ratios are valid.
---
Measuring out fib patterns manually on your chart will leave you with so many lines you might not be able to see your chart. With our software you only see what you need to see.
---
We provide the exact same templates and work-spaces we use in our education center so that you can get up and running quickly without having the need to create your own work-spaces and templates.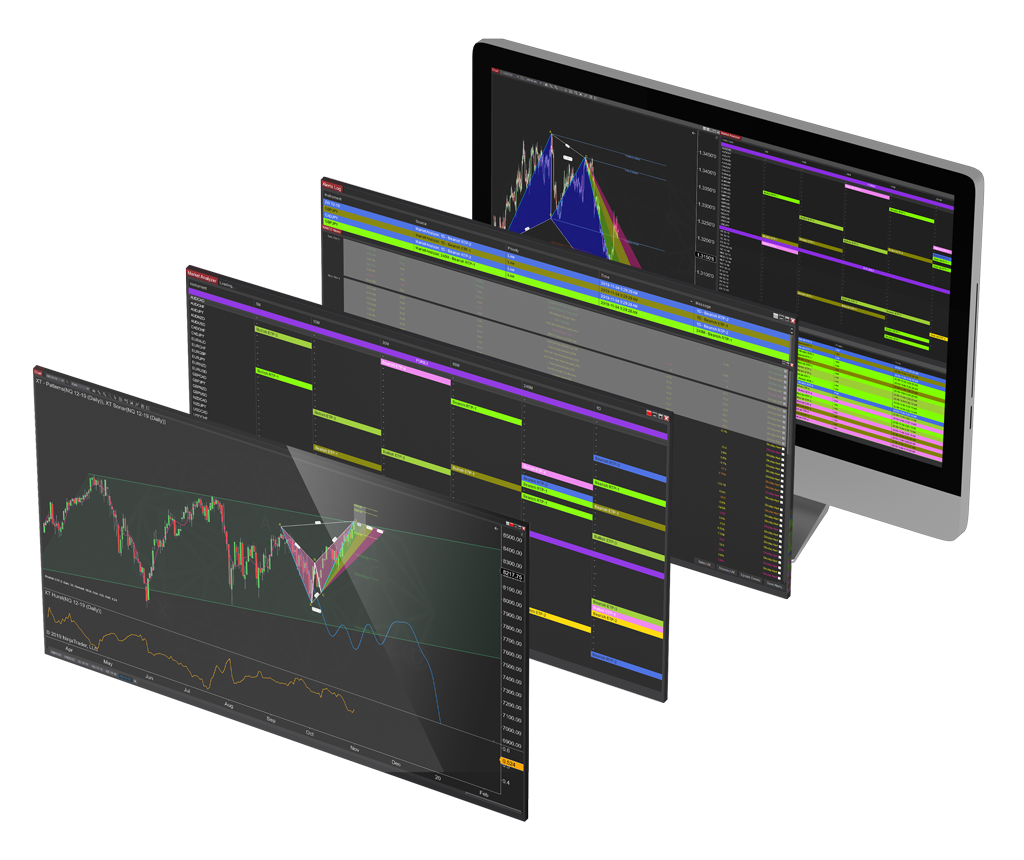 I know this can sound a bit strange but the installer was a breeze. Was very simple to setup...great software.

Alex F.
Nice software. It installed easily and runs without a hitch.

Don
Keep up the great work over there. Very impressed with the overall operation at XABCD.

Brad
Installing our software is simple.
Just download it once you've purchased it and you'll run it where an installation wizards will walk you through a simple few steps. Select the suite to install, Enter your license key, Select the Templates/Workspaces. Hit Install.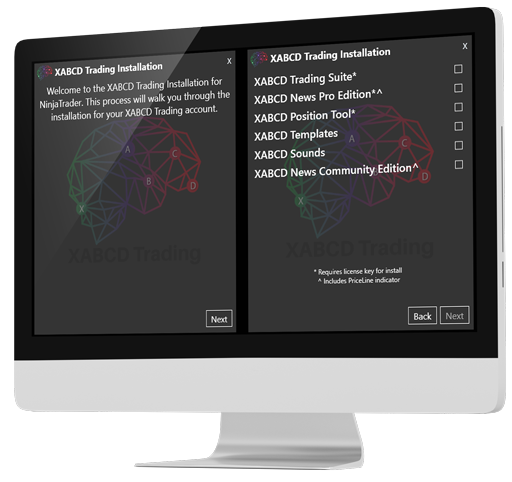 ---
If you need any help you can schedule a time with our support where they are more than willing to help you.
---
Ask questions! We have many who are willing to help where you can ask questions and get answers pretty quickly.
---
Our webinars run Monday to Wednesday at 8am EST and a live recording is made shortly after for viewing. When you purchase our software you get 6 or 12 months (your choice) of access to our webinars.
From time to time we'll run discussions on particular topics surrounding our software. These are great learning opportunities to master the specifics of what the software can do. This is part of our educational offering that is included.
Automatically finds 4 Point Patterns, 5 Point, and 6 Point Patterns.
Automatic drawing of patterns or the use of drawing tools!
Functions on all markets and time-frames
Show's Past and Current Patterns
Custom Colored Patterns for easy identification
XABCD Pattern Filters (By Size and other methods)
XABCD Flexible Gap Percentages
Advanced Control for Pattern Points
Responsive Drawing Tools
Self validation of drawing tools (Turns from grey to a color when valid)
Scans entire markets and any instruments.
Built in alerts already configured.
Enter Custom Fibonacci Targets
Optional Pattern Point Targets
Change font styles, color, sizes, opacity
Multi-dimensional (Fibonacci Time and Price Checks)
Automatic Risk vs Reward Calculator
Scans all the markets and can be customized for any time frame
Can alert in confirmation mode or real-time mode for automatic pattern identification.
---
Education center which is video driven and broken down into short 10-15 minute lessons
Webinars that happen to help answer questions live
On-demand lessons which are broken down per individual topic for a quick review
Community access to ask questions 24/7 with other members
Group Discussions and Workshops
Recorded webinars for review
---
All videos are done in HD quality.
Lifetime XABCD License holders get access to the JumpStart program to kick off your usage.
Crash course topics available for the NT8 XABCD Pattern Suite.
Templates for charts, drawing tools, indicators etc
Market analyzer templates are also provided and customization
Workspace templates have been created to get you up and running with the software quickly.
---
You'll have access to our support team who can help you answer any questions
We can help you set up the software on your PC
Live chat support available for quick questions.
---
You choose, lease it or buy it.
---
---
I think I am just about up to speed. Software is genius, and webinars are outstanding.

Shannon
---
I'm amazed at how the indicators can do the work in locating a possible pattern to trade.

Byron
---
I use XABCD every day to find pattern, it is a great software.

Ray
---
We invested in this application a few months ago and we love it so far.

Jim
---
After working with the Tools for another few days, i really start to like XABCD patterns

Mike
It's very nice, clean, and efficient.

Raul
---
I like the indicator as I think it can help me to save a lot of time in founding trading opportunity.

David
---
The indicators I purchased from you are doing well on my NinjaTrader 8 platform. The coding you had done for these indicators seems to be of exceptionally high quality, After rigorous testing I've encountered no issue's so far.....this very rarely happens.

Domenico
---
The XABCD pattern indicator, if used correctly, is the only indicator I know which has really great predictive power!

Bart
---
---
As part of the community for a while now, i must say im impressed. ALL the members are positive and helpful. I traded before i came here, but slowly bled my account. Originally i just wanted the software, and the mentoring not so much. BUT they have stepped up and slapped some sense into me, although i came very far on my own, i wasn't nearly good enough and i was getting a bit lost. This all changed when i started listening, Trust me you don't have to be far off to feel completely lost, But they do a very good job making you realize things you overlook, and re-directing your energy to where it counts. still have 4 months to go, but until now it has been a great value for money!

Mark
---
I have been using the indicators though and they are very favorable a better percentage of the time.

Ron
---
Very impressed. I'm so glad I came across XABCD Trading.

Barry
---
Downloaded the indicators for NT8 and installed them. I am having a lot of fun playing with them. Looking like they just might work out for me!!!!

Dan
---
---
Testimonial Disclosure: Testimonials appearing on this website may not be representative of other clients or customers and is not a guarantee of future performance or success.
---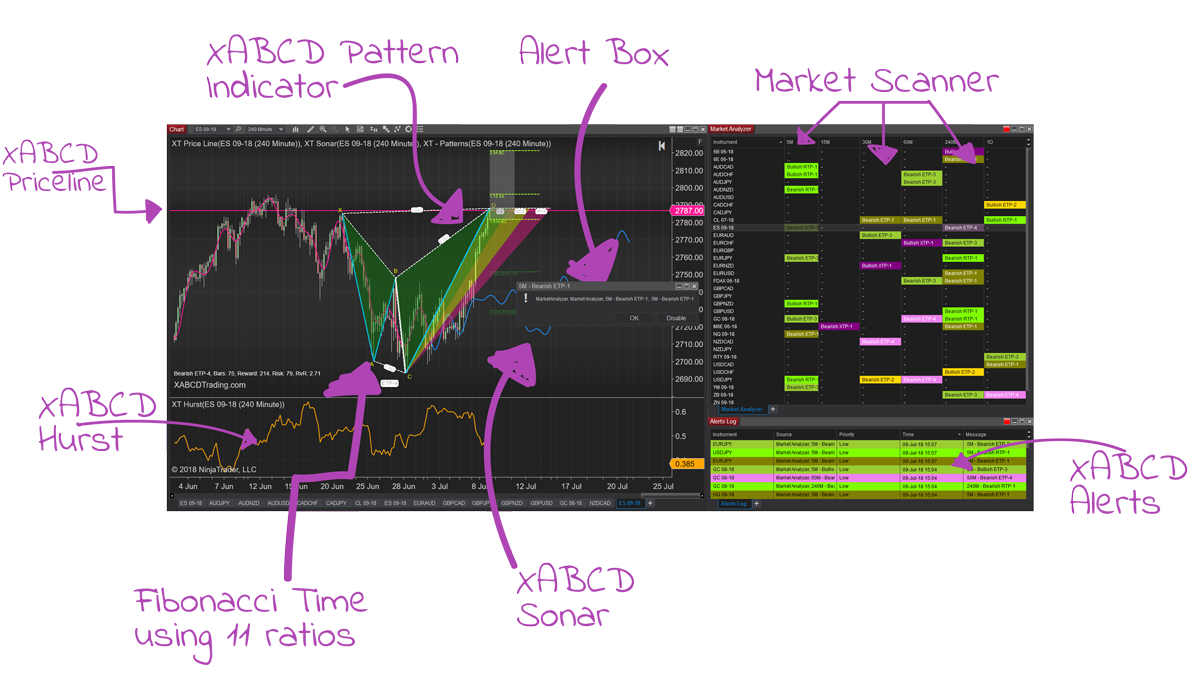 - Exclusive 9 minute detailed walk through
- Live Market Examples
- Overview Videos
- Live Alert Examples